In the digital age, where information is limitless and online content is growing rapidly, media literacy and digital literacy play a key role. With such skills, people can identify and interpret information, distinguish authentic sources from fake ones, and think critically about media messages.
Our Digit4All project also raises awareness on such issues in the name of media literacy. Efforts to create and develop such awareness include Media Literacy Training, with two great speakers, Vajk Pomichal on 15 May and Anna Viola Hornyik on 22 May.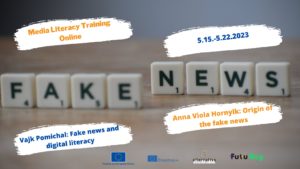 On 15 May, in the first part of the Media Literacy Training, renowned expert and media literacy speaker Vajk Pomichal spoke about the problem of fake news and the importance of digital literacy. With his impressive expertise and insightful approach, he pointed out that fake news and disinformation are not new phenomena, but in the age of the internet, they can spread rapidly and influence public opinion.
During the presentation, Vajk shared with the participants key techniques for identifying and monitoring fake news. Then, for the sake of interest, Vajk presented some computer games and tools of the modern world that also relate to the topic of fake news.
In the second part of the Media Literacy Training on 22 May, Anna Viola Hornyik gave a presentation on the origins of fake news. Anna spoke passionately about how fake news is not just the result of simple manipulation, but is deeply rooted in social and technological processes.
She detailed the importance of source checking and context checking and gave useful tips on how to identify reliable sources of information. She also encouraged the audience to develop their critical thinking and not to blindly accept everything they read on the internet.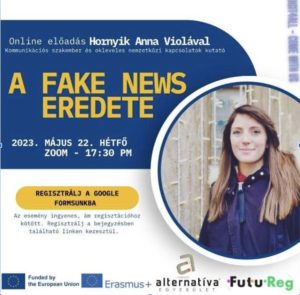 Funded by The European Union Project Number:
2022-1-SK02-KA210-YOU-000083196