On 6th and 7th April 2022, we had a chance to meet our partners from Czech Republic and Slovenia
in our first offline – kick off meeting in Ostrava, Czech Republic.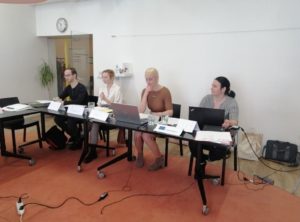 The hosting organization was Rovnovážka. Klára Tidrichová from Rovnovážka together with their
colleagues prepared for us a welcoming meeting. The meeting was spiced up with presentations by
external experts in the field of women's education and their position on the labor market. Markéta
Ubíková gave a presentation on IT as a must-have for women in the 21st century. Klára Žídková made
a presentation on the topic of gender equality. The meeting was also attended by two interns from
the University of Ostrava, for whom it was their first experience with international negotiations.
The meeting took place in the Ostrava Impact Hub.
We thank all participants and especially the hosting organization Rovnovazka and look forward to
further joint activities within the project!

The project is funded by the European Union.
Project Number – 2021-1-SK01-KA210-ADU-000034089