Within the project digeq we have prepade several educational videos in the cooperation of FUTUREG, GLAFKA,FAZEKAS in oder to promote digital knowledge, the growth of digital intelligence through the emotional balance of young people, creating emotional resolution techniques for online conflicts and the so-called teaching of emotional comepetence for young people.
We have published and disseminated the videos therefore everyone is able to find them. There are 12 videos published in 4 languages: Hungarian, Slovak, Czech and English.
We have created 4 lists based on the languages on our YouTube channel.
The English videos can be found HERE.
Therefore there are several interesting topics that talk for instance about password security, since it is more important than ever in today's digital age. Your passwords protect sensitive information such as your bank account details, personal information, and social media accounts. In this video, we will provide some tips for creating secure passwords.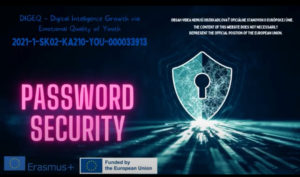 We have also raised awareness about the abuse of online space is a phenomenon that affects everyone. Cyberbullying is when someone uses the internet to hurt, threaten, humiliate, or harass another person. You can be the one to help a victim of cyberbullying.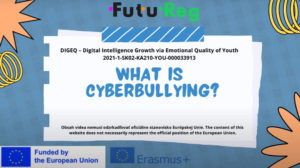 Erasmus + Project called Digital Intelligence growth via Emotional Quality of Youth DIGEQ. Project Number 2021-1-SK02-KA210-YOU-000033913 This was funded by the European Union.